Councils' Year in Review
Council has again this year been working on behalf of members to promote the Dohne breed and encourage breeders to maintain a high level of integrity and accuracy with data recording and reporting. The majority of members are to be congratulated on timely and accurate data submission which benefits both individual studs and the breed as a whole.
The Sire Evaluation Trial being held at Coonong Station in NSW is progressing well, with data being collected as per AMSEA guidelines. An open day is proposed for June 2022 and will be accessible to any interested party.
Ram sales at public auction exceeded 2000 in 2021, which was the largest number of rams sold since 2017, and the average price was $1623.
The ADBA is currently in a sound financial position and aims to appoint a Breed Development Officer in 2022, to enhance the exposure of the Dohne breed and assist Council with new marketing and operational ideas.
It is with regret that a couple of studs have decided to move on from breeding registered Dohnes, however we wish them all the best for what lies ahead
We look forward to a prosperous and fulfilling 2022, and wish all members and their families a Merry Christmas and Happy New Year.
Rachel Browne, ADBA President
Coonong Sire Evaluation Update
Site Manager Update – Jim Meckiff, JM LIVESTOCK
Weaning was completed at Coonong on the 13 October at 110 DAYS from the start of lambing. Weaners presented in excellent order and well above the Target Weaning Weight of 29 KG. A single born Wether lamb come over the scales at 49.5 KG!!
Coonong Station received above average rainfall this Spring with the following amounts being recorded at the Urana Post Office; September 66.3 mm, October 26.8 mm and November 100.5 mm whilst the average rainfall for this period is 95.1 mm.  To date the annual rainfall as at end of November is 501 mm well ahead of the AAR of 435 mm.
Prior to weaning a WEC was conducted on the ewes and lambs to identify the opportunity to do individual WECs. The WEC average was well below the 300 eggs per gram threshold required by Sheep Genetics with some samples at 0 eggs per gram. If an opportunity arises later in the trial individual WECs will be conducted on the ewe portion.
Normal practice at "Coonong" is for weaners to be shorn in October to avoid grass seed and fly pressure however to accommodate the AMSEA trial design the wethers will be shorn January 2022 at Post Weaning stage and the ewes in July 2022 at Yearling stage.
To alleviate the grass seed issue "Coonong" has identified weaning paddocks with less grass seed. All weaners were treated with Dicyclanil for fly prevention and received a combination drench. A small number of weaners required treatment for body strike. These individuals were noted and the area clipped and treated for fly strike.
During weaning the ewes and wethers were split into separate mobs and a Weaning Weight recorded (12 hr curfew). Two weaners which required a resample of DNA were also drafted aside for another TSU sample to be taken.
These DNA results were received on 30/11/2021 so now all available information can be used to produce an Interim Site Report to be published in December 2021.
This publication will be made available at the AMSEA Merino Superior Sires webpage
https://merinosuperiorsires.com.au/ and circulated to all entrants and the ADBA.
Upcoming Events
Wether Weaners – January 2022: Classing, Shearing, Off Shears traits
PWWT, PEMD & PFAT, Feedlot induction February 2022
Carcass Assessment APRIL 2022
Ewe Weaners – PWWT February 2022, Classing June 2022, Shearing July 2022.
Field Day June 2022.
Table 1. 2021 Dohne Sire Evaluation Weaning Statistics.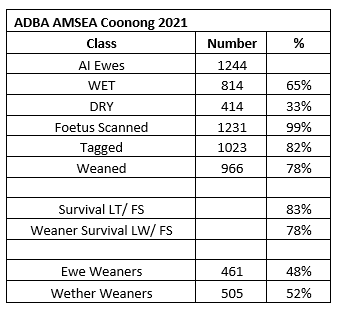 Table 2. Dohne Sire Evaluation Reproduction Statistics.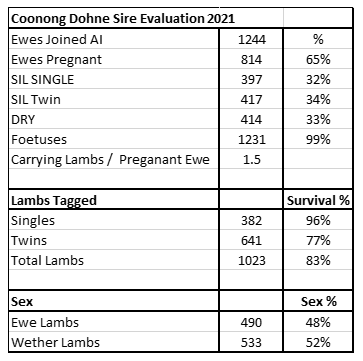 Pastoral conditions are in record territory with abundant feed. Corkscrew Spear grass and Yangabill are problematic for grass seed infestation. Estimate the ewes and lambs came from 4000+ FOO of medium to high quality pasture. Summer grass species like Windmill Grass are actively growing and will provide green feed into summer.
I would like to thank Coonong Station for providing excellent facilities and having the sheep present in terrific order and Don Mills for being present at Weaning to get the job done and ensure the trial is running as prescribed.