Vale Clyde McKenzie
Council would like to inform members of the passing of former ADBA Approved Classer and Elders branch manager Clyde McKenzie who passed away in the first week of January 2023.
Clyde serviced the Riverina district for 47 years as a wool buyer, over these year Clyde was the District Wool Manager for Elders, along with serving 12 years as the Deniliquin Branch Manager.
Clyde was dedicated to his role and a proud ambassador of the Elders Brand. His clients always came first, he was invested in their wool, whether it be sheep classing, ram selection or the wool market, Clyde was always willing to provide advice and assistance not only to producers but also for wool trainees and younger district wool managers. He had a sharp memory being able to name rams, bloodlines and clients from purchases 30 years ago and beyond.
Clyde was always a supporter of the Dohne breeder, before and after his role as ADBA Approved Classer, just recently Clyde attended the first Coonong Station Dohne Sire Evaluation field day in June.
At the annual summer Deniliquin Store Sheep Sale on Friday 20th January, hats were lowered for a minute silence to acknowledge the passing of Clyde McKenzie, who was highly respected legend of the Sheep and Wool Industry, before the sheep sale launched into action, Clyde will be deeply missed.
Our thoughts and deepest condolences are with his wife Sue and his family.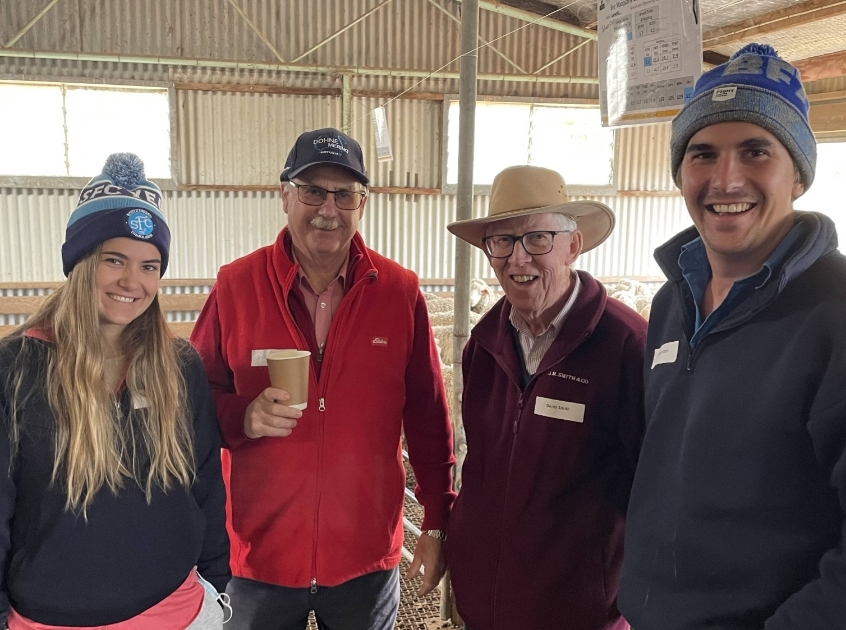 Councils' Annual Face to Face Meeting
Council will conduct the annual face to face meeting from Monday 20 to Thursday 23 February in Adelaide.  This meet provides the opportunity for sub committees to present researched recommendations to council. If any members have topics/issues that they would like council to address at this meeting please email Cameron Hills secretary@dohne.com.au.
Dohne Rams Sales
Dohne ram sales kick off this month around the Armidale area, for more details on these sales see details below:
Monday 13 February – Alfoxton On Property Ram Sale, Armidale NSW – Click Here
Friday 17 February – Harewood Annual On Property Ram Sale, Armidale NSW – Click Here
Tuesday 7 March – Tablelands Dohne Rams Sale, Guyra NSW – Click Here
National Wild Dog Action Plan
Be informed and make up your own mind on wild dog predation www.wilddogplan.org.au.