National Dohne Liftout
The 2022 National Dohne Liftout comes out in ACM newspapers on Thursday 7th July.
Below is a digital copy of this publication.
National Dohne Liftout Flippingbook
Australian Sheep and Wool Show, Bendigo VIC
After 2 years of Covid cancellations, the 3 days of Bendigo ASWS Dohne Tent 2022 began with Longeranong Agricultural College on the Friday, Moama Grammer on the Saturday, interspersed with a series of short Tech Talks finishing with intra-stud judging on Saturday afternoon and Sunday morning.
With 2 teachers and only 5 students the Friday is best summarized in a return email sent by teachers Craig and Will.
"Firstly, thankyou for allowing Longerenong College Students to participate in the Dohne judging, both fleece and animals at Bendigo."
"The day was very productive and it was an unknown for both of us. To be honest the day and the student's interaction was better than what I expected, and after having been part of the Dohne tent for one year we both have an understanding of the structure and procedure for the day and how we can improve going forward."
"Once again, thankyou and we are keen to participate again next year."
With Moama Grammar on the Saturday, both teacher Carolyn and her 11 students were a bundle of enthusiasm and a pleasure to conduct through the sheep and wool judging with Don Mills playing the leading role taking the group through the many varied sheep breeds on a Showgrounds tour. The children presented the ADBA with a Certificate of Appreciation.
Both schools were presented with Broad Ribbons for all placings and caps and showbags.
Thanks to all overjudges, Michael Elmes, Stephen Chalmers, Lachlan Sutton and Craig Mackley.
AWEX was given a small tent site whilst AWEX representative Fiona Raleigh was able to class our In-Tent Fleece Judging which was dominated by Stirling in the Long Wools and Macquarie in the Short Wool Class.
Short Tech Talks were given on both days by AWEX, AWI, Sheep Genetics and Fox & Lillie on subjects varying from non-mulesed premiums and new woolpack coding procedures to ASBV's and clothing and woven footwear developments. The latter exhibition being particularly interesting whilst it has become exciting to see the present $2 non-mulesed premium shift skywards.
Saturday afternoon and Sunday morning were finished with keenly watched with-in stud judging amongst the site-holders with each Stud Principal watching on whilst his contemparies judged.
A fun packed Tent with plenty to do in a year struggling for interest in wool. Thankyou to all sponsors (Elders, Nutrien Ag Solutions, Fox & Lillie, G Schneider Australia, Sheepmatters) plus AWEX, AWI and Sheep Genetics. Thankyou also to all stud site holders Kardinia, Glenaroua, Gunyado, Macquarie and Stirling.
A decision should be made by late August on Dohne Breed Feature Status for Bendigo ASWS for 2024.
Murray Rogerson
Convenor, ADBA Show Committee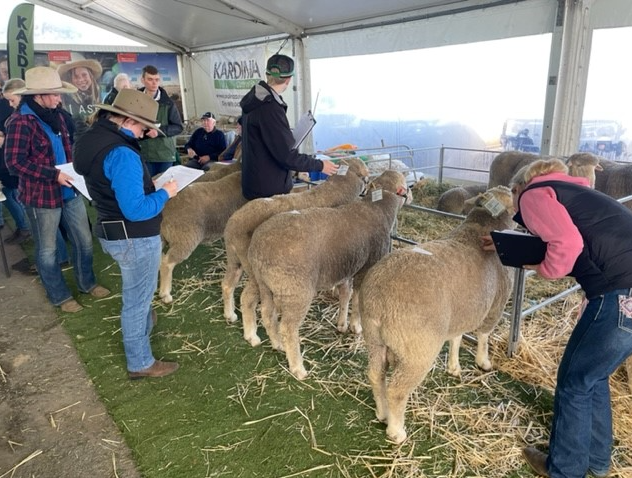 Dohne Ram Sale Results
O'Brien Dohne Ram Sale, Wudinna SA
29 rams sold to $3200 and averaged $1543.